New for 2015!
Oxford Bar Billiards Ltd Pool League is CHANGING!!
We're moving to Tuesdays!!!
New 4 person Team – Singles & Doubles Format
Click HERE for entry forms for the 2015/16 season
We are  moving from our traditional Monday night slot to a Tuesday night, in the hope that this will entice a greater number of players, and give our league a bit of a facelift! The format is being changed to allow pubs to enter with slightly fewer players. And scotch doubles is being introduced to make the evening a bit more sociable and to offer something different from the other Oxford pool leagues.
The new format means teams need only field 4 players (although the format allows for more than 4 people to play if desired)
With a 4 players, each player will play two singles frames and two scotch doubles frames in the course of the evening.
Format:
Set1 – 4 singles frames
Set2 – 4 scotch doubles frames
Set3 – 4 singles frames
If a team has more than 4 players, then reserves can be substituted in as desired, as long as no player plays more than 2 singles frames plus two scotch frames.
Teams may choose to play each of their players once in each singles set (per Abingdon League) but this is not essential. Our format still allows some flexibility for late arrivals/early departures where necessary, because a player may play both their singles frames in set 1 and none in set 3 if they wish. This is also aided by the scotch frames being in the middle of the evening.
Scotch Doubles is like normal doubles, except you and your partner take a shot each instead of a visit each. If Player A pots a ball on his go, their partner Player B comes to the table to play the next shot, if they pot Player A returns to the table, and so on… There will be no talking between partners once their visit has commenced.
Points will be awarded for each frame won. A bonus point will be given for an away win.
Teams will be divided into sections based upon ability, and there may be split sections if deemed necessary.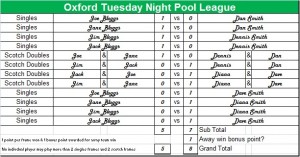 During the season we will assess the merits of the new format, and will take on board any comments received, with a view to making any alterations necessary to further improve the league for the following season.
Spread the word – and start sorting your new teams – registration forms will be sent out in July for submission by August. The new league will start in September…
Details
The league has been running since 1984. League registrations start in August and the league runs September to April with KO competitions going on until June. Secretary is Jaz Scott who can be contacted at jaz_venning@hotmail.com or call 07977 449174
Click here to see a Google map with the location of this years venues marked on it
Fixtures
Tables & Most Wins
Knockout Competitions
Christmas Scotch Doubles
Club Contacts
Constitution & Rules 
Historical Winners
Historical Most Wins
Finals Night Galleries